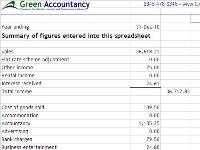 Green Accountancy have developed our own bookkeeping Microsoft Excel spreadsheet which we provide free of charge. This will allow you to record your bank transactions, keep track of your sales invoices and review your business' current financial position by viewing the profit and loss account and balance sheet.
Our spreadsheet is meant for use for small sole trader businesses and one person directorship companies. Larger businesses should consider using a more advance piece of software as the spreadsheet will likely not be sufficient to meet all their needs.
You can download our bookkeeping spreadsheet in the downloads section of the client area.