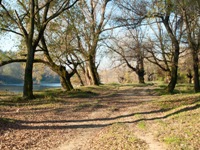 Aims
We aim to operate our accountancy practice with as little environmental impact as is possible. We recognise that our business has impacts on the environment both directly (e.g. electricity use) and indirectly (e.g. web hosting).
We monitor all aspects of our business including environmental impact on a quarterly basis.  We will always aim to reduce impacts where possible.
Environmental legislation
We have a good understanding of environmental legislation.  We fully comply with all areas and will remain aware of our duties.
Office
We rent a 600 square foot (56 square meters) office within a shared office building.  The entire first floor is occupied by Oxfordshire County Council Countryside Services.  This includes the Thames Valley Environmental Records Centre, Wychwood Project and Oxfordshire Rights of Way officer.
We chose to occupy surplus accommodation within an in use office building so that heating energy use would not be increased by our presence.  The building was formerly owned and used by Oxford Instruments.
The heating system is a highly efficient air exchange system heated by an energy efficient boiler installed in 2009.   There are no water heated radiators.
The building is highly insulated.  The windows have heat saving solar film which helps retain heat if the air outside is cooler than the office, and reflects sunshine away from the office on hot days.
We refurbish and purchase recycled equipment where possible.  ALL of our desks are purchased second hand avoiding landfill and manufacture of new desks.  Our favourite office desk is in its fourth ownership (originally owned by the Midland Bank) and was first bought in 1981.
Transport
Most of our work is based at our office which is less than two miles from the majority of our employees. All employees travel by bus or use a car share.  We pay for employee travel to work in cases where buses are used.
Meetings are held at our office locations or clients' premises in Oxford, Reading or London.  Most travel, including all travel to and in London, is by bus, train, tube or by foot.
Occasionally we use our Ford Fusion car to travel when there is no bus service or public transport would take three or more times longer.  Our car has emissions of 117g CO2 per km (£35 per year road fund tax).  We monitor car use and related carbon emissions carefully.  We only use waste vegetable oil fuel for business miles.
We never fly as part of our business.
Electricity and web hosting
We monitor and minimise the amount of electricity used.  We have purchased photo voltaic (pv) solar panels (2KW system).  This generates more electricity than we use in the office over an annual cycle.
Our website is hosted using by Ecological Hosting who operate in an environmentally friendly way.  The web hosting servers are powered entirely by solar panels.
Paper and printing
We try to run as near to paperless as possible.  Some forms and reports do still require original signature creating an unavoidable use of paper.  We purchase paper and envelopes made from 100% recycled post consumer waste.
Our printing is carried out by Seacourt, a local waterless printing company or Park Lane Press a printer that also uses waterless printing.
Waste and recycling
All paper waste is shredded and then composted along with our daily tea bag mountain.  All plastic and cardboard are recycled.
Water usage
We drink tap water and monitor water usage.
Clients and customers
We provide our services to any business; many of our clients do not have environmental policies.  We encourage consideration of the environment but do not allow this to distract from our main service of accountancy, business and taxation advice.  Those clients that are interested in environmental issues benefit from our knowledge of environmental conservation.
Participation in environmental discussions
We comment on environmental policies affecting small businesses.  We attend local climate change network meetings and various environmental seminars, open days and exhibitions.
Review procedures
We review each item within this environmental policy on a quarterly basis.
Links