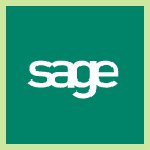 Sage is not the easiest software to use.  Sage products are the most popular in the UK and support is generally good.
Sage Instant is priced in the region of £125+VAT to £300+VAT.  This is very good software for most small businesses that wish to track bank transactions, sales and purchase invoices and VAT.
Sage 50 Accounts (Line 50) is priced in the region of £595+VAT to £3,500+VAT.  Compared to Sage Instant, Sage50 Accounts adds facilities such as email links, pricing lists, fixed asset register, sales orders, more advanced analysis and reporting and greater number of concurrent users.