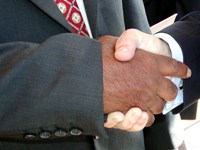 Is your business well run?  Do you put customers first?  Are you organised and effective?  Most importantly, do potential customers and clients believe that you are capable of delivering the service they need?  These are big questions that go to the very heart of success in business.
When you select a supplier one of your criteria will be your assessment of their ability to deliver their promise.  One of the ways you will judge this is how they deal with their own affairs.  If a suppliers reception has junk lying around, their letters contain mistakes or they answer telephones with a grunt, you might feel that if that is how they run their business, mistakes may occur when they are supplying goods or services to you.
For many potential customers the environmental outlook of a business works in a similar way.  Increasingly customers, whether individuals, other businesses or public bodies, consider a supplier's approach to the environment as a factor when assessing how they believe they will perform generally.  This selection on environmental policy may be done subconsciously, actively or even through formal tender processes.
By taking positive environmental action, and making appropriate reporting, you will present your business as not only modern and ethical, but also as responsible and well managed.  A business with a sound environmental policy that is taking reasonable steps to reduce their environmental impact will also be diligent in meeting the needs of their customers.
A business that has no regard for the environment is likely to be inward looking, out of touch and will provide the bare minimum of service.  At least that's the view that many prospective customers will take.
Considering the environment in your business decisions will enhance the respect, brand and standing of your business.