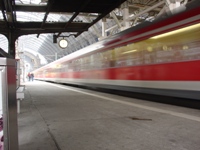 Assessing your environmental impacts
To assess the impact of your travel it is convenient to record emissions in terms of carbon dioxide. There are many other emissions associated with travel including sulphur, carbon monoxide and all of the energy and resources of the manufacture of vehicles and infrastructure. These can be approximated as proportional to carbon emissions; reducing carbon emissions will lead to a reduction in all of the other travel related impacts. To calculate your business' current carbon dioxide emissions it is necessary to know two things for each journey: the distance travelled and the emissions per mile or km. The accepted way to calculate emissions is based on average emission rates multiplied by the distance travelled. Emission rates quoted vary but are typically (all relate to grams of carbon dioxide):
Train or coach 60g / km (97g / mile)
Underground or local bus 110g / km (170g / mile)
Small or efficient car 120g / km (193g / mile)
Typical family cars 170g to 230g / km (274g to 370g / mile) See also our Car Emissions page.
Calculating the emissions relating to air travel is potentially complicated; however a reasonable estimate can be made using the distance multiplied by emission rates method. Emission rates quoted often vary but are approximately:
Long haul flights 340g / km (547g / mile)
Short haul (Europe) flights 540g / km (869g / mile)
When recording carbon dioxide emissions relating to travel include all employee travel between home and work.
Deciding on your targets
The amount of emissions will depend on your business size, complexity and sector. The amount travelled may be proportional to business activity and therefore absolute targets will not be sensible. It is more realistic to set targets in relation to turnover. If you have not considered reducing travel emissions before then targets might only be a fraction of current levels. Once significant efforts have been made then future targets may be to aim for 3% year on year reductions in carbon emissions.
Reducing your impacts
One of the main ways in which many businesses can reduce travel emissions is to use public transport. We have heard many complaints from business people about public transport including "the bus or train is always full to bursting", "busses (and/or people on buses) smell" and "the bus or train is always late". To any of these complaints, we simply say try going by bus or train on a regular basis. We know that driving into London takes more time than going by train. You can read on the train, you can't read when you're driving. Of course trains are busy in the rush hour, but the roads are far worse. Use local buses, once you get to know the stops and times you will realise that travel within or into most cities is far more enjoyable by bus than by car. You get to whiz along the bus lanes! There is also a more straightforward approach: public transport is less environmentally damaging than private cars. Some use of a car within a business may be unavoidable. Some journeys might require three buses and a long walk instead of one car drive. If you have targets for emissions per £1,000 turnover then it may be more efficient to use a low emission car for such journeys. Air travel can be avoided by small businesses. Discussions with management in overseas offices, for instance offices within the same group of companies as your own, can easily be carried out using internet based video conferencing. If an overseas business trip is essential, try to delay it as long as possible; doing this each time will reduce the number of trips in the long run. If the trip is within Europe then travel by train.