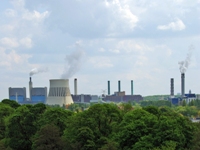 Green Accountancy have developed a system called Carbon Accounting for Smaller Entities (CASE).  This is a method of accounting for carbon that has been developed particularly with small businesses, charities and not for profit organisations in mind.
The objective of the Carbon Accounting for Smaller Entities is to enable small entities to prepare simple, robust and consistent environmental reports. We recommend use of this procedure for all small entities with turnover up to £6.5M. This includes companies of all types, charities, partnerships and sole traders.
Why should you read and implement CASE?
If you are interested in tracking the carbon emissions of your business or organisation then this will be useful to have reviewed this tool.
CASE gives standardised decisions on what emissions to include.  For example CASE requires that carbon emissions relating to commuting are including, in agreement with DEFRA guidance for small business.
By following a standardised layout presenting your carbon account each quarter or year, you can become familiar with the areas that need action, and see clear results of your carbon emission reductions.
CASE leads to a result of CO2(e)kg per£1,000 of turnover (or CO2(e)Tonnes per £1M turnover).
What do I have to do?
As a starting point to Carbon Accounting, or as further information, we recommend that you read CASE.  This can be downloaded by clicking here.
In summary, following CASE will simply require you to record usage of each of the following resources on a quarterly or annual basis:
Electricity
Gas
Public transport journeys
Petrol or diesel used
Commuting journeys
Water
Paper
Using simple to use factors, the usage data can then be converted to CO2(e) for each of these headings for the period.  This gives the gross total emissions.
Deductions are then made for green tariff electricity purchases and carbon offsetting in accordance with DEFRA guidelines.
The net total emissions can then be divided by turnover (in £1,000) to give CO2(e) Kg per £1,000 turnover for the quarter or year.
Targets can then be set and actions to taken to reduce carbon pollution, and improve your carbon emissions figure.
The process of your organisation taking up carbon accounting in a serious and professional way, and taking action to reduce pollution, is then part of your organisations story.